Description
Myriams Premium Hemp CBD BALM 750MG 2oz
Our proprietary Myriams Premium Hemp CBD BALM contains 750+- mg of full spectrum CBD per 2oz, making it one of the strongest hemp infused CBD Balms on the market.
We have meticulously selected our Myriams Premium Hemp CBD BALM ingredients to ensure that it is the most effective and pure on the market.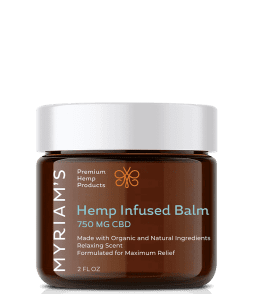 Because our skin is the biggest organ in our body and absorbs everything it touches, we have ensured that every single ingredient is natural with no preservatives or chemicals.
750 mg full spectrum hemp CBD/ 2oz
– Made with all Natural ingredients
– Full Spectrum
– No Preservatives
– Lab Tested
– Formulated for maximum absorption and efficacy
– Made in the USA
– Sugar Free
– Wheat Free
– Less than .3% THC
– Ships to all 50 States
*These statements have not been evaluated by the Food and Drug Administration. This product is not intended to diagnose, treat, cure or prevent any disease.
Description
Our products are made with premium hemp and we use only full spectrum oil in all of our products.
We formulate all of our products to ensure maximum absorption.
Store in cool dry place away from direct sunlight.
Buy hemp infused balm online from Myriam's Hope Hemp!
Suggest Use: Apply a small amount to desired area as needed. Not recommended for facial applications. Topical use only, not for ingestion. Avoid direct contact with eyes.
Ingredients: Organic Sunflower Oil, Organic MCT Oil, Organic Beeswax, Organic Calendula Butter, Organic Shea Butter, Organic Cocoa Butter, Organic Hemp Extract, Organic Avocado Oil, Organic Aloe Vera Oil, Organic Lavender Oil, Organic Tea Tree Oil, Organic Tangerine Oil, Organic Grapefruit Oil, Organic Eucalyptus Oil.
For the best Myriam's Premium Products Click here